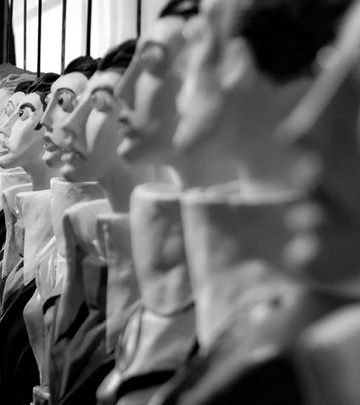 Teatro de Marionetas do Porto
Teatro de Marionetas do Porto was created in 1988 and, in a first phase, focuses its activity on the creation of shows that result from the research of popular heritage. From this phase, the study and reconstruction of the old Portuguese tradition of the Dom Roberto theatre was highlighted.
From its roots, the company begins to make progress, over the course of several creations with a certain experimental nature, towards the search for elements of modernity in the puppet. "Exit" (1998) is the show that most clearly consolidates this course of action.
The company's theatrical practice currently reveals an unconventional vision of the puppet, a concept that is continuously updated, and the understanding of puppet theatre as a poetic and imaginary language evocative of contemporary times. We seek to find new ways of conceiving puppets, in its limit – kinetic objects, and new possibilities to explore the grammar of this theatrical language, regarding interpretation and parallel relationship with other areas of expression such as dance, plastic arts, music and image.
The 31 shows created to date by TMP are aimed either at adult or young audiences and the company's activity spans over presentations in the city of Porto, where throughout the years it has created a strong flow of audience and intense activity taking shows to many locations both at home and abroad.